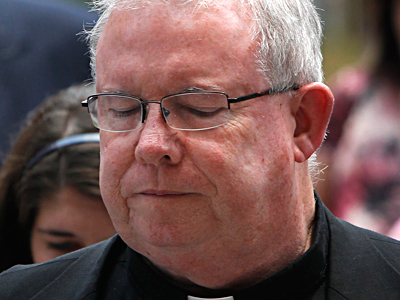 William Lynn
History was made yesterday in Philadelphia when Catholic priest William Lynn, who held the title of Monsignor in the hierarchy of the church, was sentenced to six years in prison for felony endangerment of the welfare of a child. In essence, Lynn was convicted of turning a blind eye to child rapists, allowing pedophile priests continued access to children. His actions lead directly to the rape and torture of children. Many feel six years in prison (and he's eligible for parole in three) are not enough.
Evidence at trial showed that months after becoming secretary for clergy in 1992, Msgr. Lynn took the initiative to compile a list from church archives of known or possibly abusive priests spanning several decades. He presented the list of scores of priests to Cardinal Anthony Bevilacqua, who was archbishop of Philadelphia at the time. The cardinal ordered that the list be shredded, but a copy was retained and forgotten in a locked safe at the Archdiocesan Pastoral Center in Philadelphia.

Once he knew of the list and the extent of the clergy sexual abuse problem, Msgr. Lynn should have resigned, [District Attorney Seth] Williams said.

Instead, "he locked the list of names away in a vault -- names of priests he knew were abusive," Williams said. "Now he will be locked away for a fraction of that time."
The defense, of course, feels differently. This case, and the relative severity of the sentence, might well establish a precedent for dealing with the institutionalized cover-up of child rape in the Catholic Church. There are many mid level Catholic functionaries who should be quaking in their boots right now, as they imagine spending their twilight years locked away and in disgrace. The
New York Times
reported:
Monsignor Lynn's lawyers said they would appeal the conviction, saying that the child endangerment law at the time did not apply to supervisors and that the judge erred in allowing testimony about accusations that were beyond the statute of limitations.
But it was this bit from the Times that really caught my attention:
After the sentencing, Ann Casey, a friend of Monsignor Lynn for 36 years, said she believed he was a scapegoat and a victim of his intense faith in the archdiocese's leaders. "It was his vow of obedience to the church that landed him this morning in jail," she said.
According to
Wikipedia
, The Code of Canon Law (canon 601) states:
The evangelical counsel of obedience... requires a submission of the will to legitimate superiors, who stand in the place of God when they command according to the proper constitutions. [emphasis mine]
In other words, when Lynn helped to cover-up the actions of the priest who raped and tortured children, then put that same priest in a position to repeat his crimes, resulting in more rape and torture of children, he was doing so because a higher up in the church hierarchy, Cardinal Anthony J. Bevilacqua, told him to. Bevilacqua died in January, escaping justice.
William Lynn's mistake was believing that Bevilacqua, or anyone, stands "in the place of God." Lynn threw away his own moral compass, relying instead on the Catholic Church. Lynn decided that a centuries old institution based on mythology and ignorance deserved greater protection than the health and welfare of innocent children. Lynn decided to ignore what was right and do as he was told. Lynn's actions are monstrous, and truly unforgivable.
But hey, he was only following orders, right?