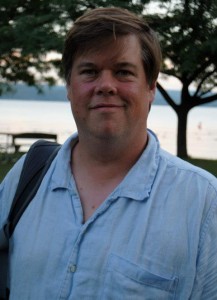 In my last post
I answered the first of two questions
put to me by a reader identifying itself as "The Dancing Hippy" in response to
a talk I gave at First Unitarian here in Providence Rhode Island
. In this post I take on the second question, as best I can.
How do you arrive at a position of compassion as a moral value based purely on reason and why would that be any better than the moral position of self interest proposed by Ayn Rand?
These are two questions in one. The first part, as to how I arrive at a position of compassion as a moral value based purely on reason is simply answered: I don't.
In my talk I said, "I champion the secular ideas of reason, optimism, compassion and action" and "What is required is a willingness to use strong, moral language, based in reason and compassion, that serve as calls to action."
Note that I do not say that I derive my compassion from reason, as might the Vulcans of
Star Trek
, who derive their values through "pure Logic." Instead I see reason and compassion as two separate pillars in the foundation of my Humanism.
Philosopher John Shook
gave a lecture in the way humans derived morality to my class at the Humanist institute recently, and I hope I can do his synthesis of ideas justice in this essay.
Our sense of morality and compassion has evolved over time as our ancestors slowly developed. Like chimpanzees we humans have a sense of immediate compassion for our family through what are called kinship bonds. These automatic and nearly unconscious attachments are programmed into all healthy primate brains. All of us feel a close connection to our kin and offspring because this conveys to our genes an evolutionary advantage. Further, as human beings developed into tribes, we found ourselves in a sort of primitive one-on-one reciprocity with an extended family where all tribe members were at least 2nd cousins.
Cooperation in the form of "you help me, I'll help you" became the norm. To anticipate the next part of your question regarding the philosophies of Ayn Rand, this kind of reciprocity can be seen as the basis of libertarian-economic style contract law: something is always given with the sense of something being expected in return. When we factor in game theory, we see that not being willing to play by these rules can quickly make someone an unpopular player, and in evolutionary terms unpopularity equals extinction.
But that's not the end of primate morality as it applies to humans. What we have as humans is full on "communal" morality. We do not (at our best) see our responsibility as being only to our family or only to those who might be able to help us directly: we see our commitment as being to our entire tribe, nation or species. (This is the "expanding circle" of our concern that the philosopher
Peter Singer
talks about in his works.)
Within this "communal" morality paradigm there is an enlarged sense of cooperation. "A helps B, C watches A help B so C helps B too." Shook called this "indirect reciprocity" plus emulation. We watch and learn how to be good to each other, how to build things together and how to be moral beings in each other's company.
This wider sense of generic morality is not altruism but friendship, what we might call community, i.e. cooperation writ large in the extended human family. We meet, interact, learn something, play some games and build something great. To exclude someone under this view would be immoral. How could such a view of the world allow human suffering, hunger, racism, sexism or ableism?
Now I hinted at where I was going with this when I mentioned Ayn Rand earlier. Her philosophy of Objectivism, which puts ones self-interest ahead of all other considerations in making "moral" choices rolls back the evolution of our morality to chimpanzee levels. This is not to say that one type of morality is automatically better than another because of evolutionary advancements. It's quite possible that chimp morality is better than what I have just outlined as human morality.
But I would contend that a universal ethos of compassion and caring is superior than the kind of direct reciprocity Rand seems to be espousing. There seems to be a direct relationship, Shook said, between our ability to emulate behaviors in an indirect moral reciprocity model and our ability to access, master and invent new technologies. Chimps can't build machines, in part because they have no ability to cooperate. The entire complex socio-economic model of our world, for good or for ill, has come out of our ability to indirectly reciprocate and emulate. We invented the system, it was not inevitable, and we can change it into a design of our liking.
I see Rand as rejecting essential human programming, in essence our entire frontal lobe, which seems primarily concerned with determining the intentions of our fellow human beings. Our ability to judge the intentions of our peers is what allows us to cooperate. Rand, in rejecting this, presents as the best morality a kind of pathological reliance on our more primitive primate brains. Remember that our brains are modular, and each new evolutionary advancement is built on top of the old stuff. Rarely is the old stuff replaced. We still have all our old "monkey instincts" including a penchant for primitive, direct reciprocity.
Rand seems to place our morality there. I would hope for a more holistic use of our minds.
If there is a value to being human, then we should embrace our humanity. Self interest gets us to the status of chimps. I want us to reach the status of fully realized human beings.